The 2018 livery for Michael Caruso's #23 Nissan Altima Supercar has been unveiled ahead of today's season-opening test day at Sydney Motorsport Park.
Introducing a distinctive new look to Nissan Motorsport's newest chassis, motoring website Drive.com.au will make its Supercars debut alongside the iconic NISMO Brand.
"After a long off-season, the start of the year is always really exciting, I can't wait to start racing again," said Supercars driver Michael Caruso
"All summer I've been closely watching the team as they've been building me a brand new Nissan to campaign.
"You don't get a brand new car every year, so it's great to get to the first track day of the year and show the new colours off to the crowd."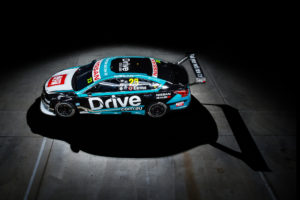 Drive.com.au is one of Australia's most authoritative sources of information for consumers researching their next new car purchase, and for motoring enthusiasts who want the latest industry news.
The involvement of Drive.com.au complements a new direction for the Fairfax brand with Chairman Shane Pettiona excited for the opportunities the sport brings.
"Supercars has a passionate and extensive fan base that we look forward to engaging with on many levels," said Pettiona.
"We want to bring value to the fans and we will launch a host of initiatives throughout the year that will make this partnership exciting for everyone."
Caruso will debut his new Nissan Altima – with the KR-009 chassis designation – at today's 2018 Supercars Championship season-starting full-grid test day having completed a successful initial shakedown of the car at Winton last week.
"Nissan Motorsport has been working tirelessly over the off-season to prepare the new car for the 2018 season," said Caruso.
"It was really impressive to complete our shakedown and not have a single drama. The car ran faultlessly.
"The test day will be an opportunity to try a few things and get really comfortable ahead of the first race in Adelaide in a fortnight's time."
Caruso continues his relationship with engineer Steven Todkill, as the pair enter their 11th season side by side.
"We've been together that long that we are a bit like an old married couple now," laughed Caruso. "In this game, that sort of continuity is really important.
"Steven is already coming at me with ideas to go faster, so we'll have plenty of things to run though at today's test."
The 2018 Virgin Australia Supercars Championship begins at the Adelaide 500, March 1-4.