This season will mark 20 years since Caruso last used a Bell Helmet in motor racing, so it is only fitting that in 2018 he returns to the brand.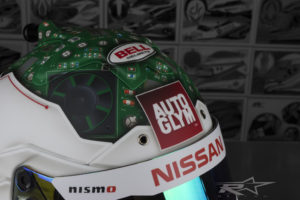 With the regulation changes set out by Supercars this year, Supercar drivers helmets need to comply with the FIA 8860-2010 standards which means all drivers will use carbon composite hardware. One of the main benefits of a Bell helmet is its light weight, weighing only 1300grams.
With the Helmet in hand, Michael sent it to Frank from Rstar Design so he could give it its usual treatment of painting. This year Frank went with a Michaels customary base design adding a computer mother board as a feature. As you can see, the high level of detail involved in painting is awe-inspiring. 
Thanks to the team at Revolution Racegear, Bell Helmets and Star Design, Michael is excited to give his his new helmet its race debut in Adelaide for round one of the Supercars Championship March 2-4.